Duran Duran pull out of SA tour
With only one week to go, Duran Duran have regretfully had to pull out of their upcoming South African tour dates (which were slated to take place from 7 to 12 December) because the show promoter defaulted on the contract, leaving the band members with no other option but to cancel the shows.
The four band members (Simon Le Bon, Nick Rhodes, John Taylor and Roger Taylor) are extremely sorry to be disappointing their fans, having spent months planning for the tour.
This trip would have been Duran Duran's first in many years and the start of the release campaign around their new studio album, 'All You Need Is Now'.
Lead singer Simon Le Bon said of the cancellation: "The worst part of this for us is disappointing our South African fans who we were really excited to be performing for again.
"We had planned to debut some of our new record on this run, as well as playing many of the familiar songs from our catalogue. We haven't been to South Africa for a long time - and were looking forward to reconnecting with the audiences there.
"Our hope is that we are able to reschedule these dates shortly as part of the World Tour next year."
I was planning to take my Dad to this so best you clowns get here next year!
No comments yet.
No trackbacks yet.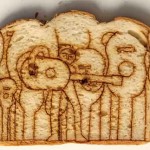 about 3 weeks ago - No comments