A look back at 2010 - New Google video
Recently we did a post on data released by Yahoo for the world's most popular search terms in 2010. Well Google has just released this video showcasing the year that was 2010 through the eyes of Google Search. Really cool video for a really cool year.
Check out this link to a cool Google Zeitgeist tool that allows you to travel through time an see the hot topics across the world.

No comments yet.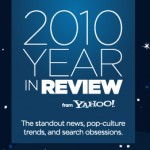 about 2 weeks ago - 1 comment