Gowalla VS Foursquare [INFOGRAPHIC]
SXSW 2011 is fast approaching. We found this really cool infographic showing the buzz created at this year's SXSW (2010) between Geo-Location rivals Foursquare and Gowalla. So who won the battle of 2010? Check the infographic out:
This will make the 2011 SXSW conference very interesting, especially with the introduction of multiple login's by Gowalla. What will the hot company be at next years conference?
(via @DailyInfographic)

No comments yet.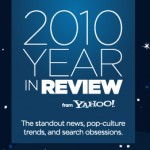 about 4 weeks ago - 1 comment