The Cinemin Swivel. Wowwee!
This is sick. A little projecting thinga-ma-jigger. You pop in your iPod and wham! You can play movies on the ceiling, in your office, on the side of a tent. You can do light graffiti on the side of a building or play games on the side of your car. Check it out here.
Pity is has one of the worst ads ever:
And here's a review if you want to check it out (of the Cinemin, not the ad):

No comments yet.
No trackbacks yet.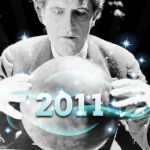 about 4 days ago - No comments