New smartphone app to become your personal STD clinic
STD testing could very soon hit the Smartphone. UK researchers are developing the tech that could see clinic appointments and waiting for results a thing of the past.
So you're looking to get tested? But you are just way to embarrassed about it or seriously can't find the time. There is soon to be an app for that. A clinical research group out of the UK has just been hooked up with a multimillion dollar investment to develop this tech for smartphones for discrete analysis of your sexual health. How will it work you ask? Well…you will drop some urine or saliva onto a chip that gets inserted into your phone. Sample gets analyzed and your handset gives you the results. No after counseling for the results but no shame either.
It may sound like the ultimate is tech dependence, and it totally, but there is an undeniable upside. The pricing plan is an affordable one. Hopefully around a dollar for the USB chips and you will be able to buy them from vending machines in bars. Next to the condoms!! Beyond delivering either good or bad news, the app will help you book a consult or point you to the nearest pharmacy and give advice on over the counter medicines.
The chips are currently compatible with all models except the iPhone, because it doesn't have a slot for micro-USB chips. This maybe be in the not too distant future for Apple users but is currently aimed at the irresponsible who putt testing off.
"Britain is one of the worst [countries] in western Europe for teenage pregnancy and STIs," project chief Dr. Tariq Sadiq explains. Tariq insists the technology is very close to becoming a reality for smartphone users, and that the team is focusing on ensuring privacy and data protection.
It definitely feels like this app pushes up against some sort of human boundary. Still, it will deliver the results in mere minutes, as opposed to the hellish several days after a clinic appointment – and it could encourage people to get tested more often.
No comments yet.
No trackbacks yet.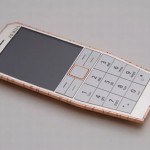 about 4 days ago - No comments
Say what? Yes you heard me right. Patrick Hyland a graduate from Central Saint Martins has designed this awesome Nokia handset, it's a phone that doesn't need a charger. The heat from being tucked away safely in your back pocket, or the heat from a lamp could be enough to keep your phone charged.