FIFA 11 Ultimate Team gets a huge update
Electronic Arts has announced a major new update for 'Fifa 11 Ultimate Team', the new way to play 'Fifa 11′ via a downloadable game mode on PlayStation 3 and Xbox 360.
The update, which includes new features Play A Friend Challenge and Friends Leaderboards plus over 50 improvements, will be live on 17 February. This is the first time major new features for 'Fifa Ultimate Team' have been developed after the game mode was released.
"We have a thriving global community of over two million fans playing 'Fifa 11 Ultimate Team'," said Kaz Makita, Executive Producer for 'Fifa'. "Our commitment to these fans is that we will continue to listen to their feedback to improve and enhance their experience year round. Play A Friend Challenge and Friends Leaderboardsareboth new innovations and features requested by the fans, and will enable players to better connect and compete with friends while playing 'Fifa 11 Ultimate Team'."
Play A Friend Challenge enables you to test your skills against your friend's Ultimate Team, even when your friend isn't online. Take on your friend's squad whenever you like with the CPU controlling your friend's squad. Results are recorded and presented to your friend the next time they log on to their console. Now you can prove who has the best Ultimate Team whenever you are ready to play. Plus, when you return to your console, you can see who played your squad, left you a message, and challenge them to a rematch when you want to play.
Compare your progress in 'Fifa 11 Ultimate Team' against friends automatically with personalised leaderboards. Regardless of how you choose to play, you can now compete and compare your progress whether you are a trader, expert team builder, top entrepreneur in the auctions, or simply want to compare the value of your club.
The update also includes over 50 additional refinements that were included based on the feedback from the Fifa community. Some of the additional changes include updates to the auctions to make it easier to track auctions or repost expired items, Power Passing assistance is switched off by default in online matches, and a number of general stability improvements.

No comments yet.
No trackbacks yet.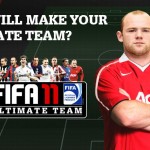 about 3 months ago - 2 comments