Posts tagged
Diablo 3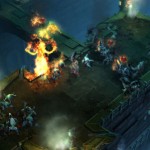 Cutting through hordes of demons is a cornerstone of the 'Diablo' series, but Blizzard are taking battle to the next level in 'Diablo III', adding a slew of new creature behaviours to make sure combat is more fast-paced and tactical than ever.
Diablo 3 has still not been released yet. The third installment of this series has kept fans on the edge of their seats, waiting not so patiently for the launch date. However some news has emerged from the Blizzard camp…
Blizzard's much anticipated third installment in the legendary Diablo series is still not going to be released until sometime next year. In the interim we have pulled together some of the absolutely amazing pieces of gaming artwork for you.