Top Gear games

Right, so I was stumbling around the interwebs when I across a couple radical online games from the boys at Top Gear. Check out, Traitor, Amphibious Challenge, Rocket Robin and Office Drive here,  will keep you entertained…
Play the Traitor
Finger mashing at its finest. There are 3 levels to crack in this game each featuring a different Nissan sports car: 370Z, 370 Roadster and the sweeeet GT-R. If you're quick enough, get your name up on the Traitors leaderboard and a possible shot at the 1000 squid a month prize that's running till November.
Amphibious Challenge
Choose between Jeremy's Toybota, Richard's Damper Van or that Herald sailing boat thing James manage to sink within seconds, then try to float your way to France. It's as simple as that… isn't it?
Rocket Robin
The one we all wanted a go at. Balance your left and right rockets, detatch at the optimum moment and go for the highest altitude you can. Get seriously good and you'll even reach the outer atmosphere. But we doubt it.
Office Drive
Simple, this one. Just get to work at the Top Gear office on time… but you have to drive all the way to your desk taking out store rooms, meetings and pot plants on the way. Jeremy couldn't manage it scrape-free, so neither will you.
Hope you guys and girls have fun with these


No comments yet.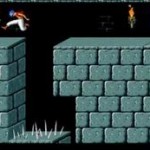 about 4 days ago - No comments
When you think Prince of Persia, most of you see the movie starring Jake Gyllenhaal. But for the rest of us we see a retro platform game released for Apple II and later ported to PC and other platforms.