Posts tagged
iphone 4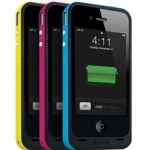 The guys at Morphie.com have done it again, providing a new solution for extra power for your iPhone 4. One of the biggest problems with today's feature rich smartphones is the power they consume.
Everyone is flocking to Vodacom & MTN to get their brand iPhone 4. In my opinion what you really need is something awesome to make your iPhone 4 stand out from the crowd while ensuring that it stays in one piece.Thats where Uncommon comes in. They are a US based company that specialise in custom created iPhone covers that are just breathtaking.
The video "Sarsaparilla Girl" by Dr. Pants, was filmed using just an iPhone 4, and is among the first in a batch of music videos using just the Apple iPhone.
So it appears we were a bit off. Last week…