PixelVulture fights climate change with Brighter Planet's 350 Challenge
Being green. Looking out for the environment. Doing our bit. All of these come down to doing good for the environment and the only planet we call home. From recycling, to walking instead of driving all help, but did you know by merely being a blogger we can do our bit too?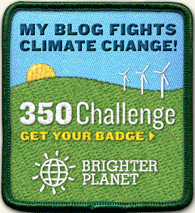 Well this is what makes Brighter Planet's 350 Challenge so unique. "The more bloggers that get our badge, the better. Thousands of readers will know that the climate movement is spreading far beyond the typical 'environmental' realm and into the norm."For every badge added Brighter Planet will donate money to offset the CO2 omissions.
The name of the challenge originally comes from their goal of reaching 350 bloggers. This milestone was soon reached; within the first month actually. And according to memeburn the actual amount of participants is closer to 3 900 with a donation of 1 365 000. We think this is such an easy (and painless) way to help our planet, and the fact that this is an online idea that has real-life impact makes our hearts giddy and happy.
PixelVulture has done its bit by adding the badge. We dare all of you too add the badge and do your bit.

No comments yet.
No trackbacks yet.
about 5 days ago - No comments