Posts tagged
playstation move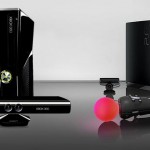 Tweet
This holiday season, the hot item in the video gaming world won't be a new console, or even a hot title, but a piece of hardware that will change the way you play games on the PlayStation 3 and the Xbox 360. Will people buy into it? We shall see.
Both due out this More >
Tweet
Guess who is back? None other than Kevin Butler, the fictitious Sony PlayStation employee. This time he comes to us from the future in a video about the new Move motion-sensitive gaming technology.
We first got introduced to Kevin in 2009 when he was the Director of Game Accuracy promoting the latest More >
Tweet
So its not called the Arch. Thank the Pope for that!! But this is Sony's answer to Nintendo's Wii and Xbox's Project Natal.
And it looks amazing!!!
Sony are going to have multiple packages for us gamer types to choose from. A standalone Move controller, or a package with PlayStation Eye + More >