Posts tagged
Video Games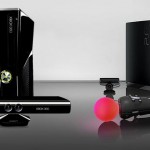 Tweet
This holiday season, the hot item in the video gaming world won't be a new console, or even a hot title, but a piece of hardware that will change the way you play games on the PlayStation 3 and the Xbox 360. Will people buy into it? We shall see.
Both due out this More >
Tweet
Happy and sad at the same time right now. Super happy because Blizzard has announced a Collectors edition for the much anticipated Star Craft II: Wings of Liberty and then sad because there is no release date for it. This awesome little package will be housing some pretty good stuff; a More >
Tweet
On the surface, Sony's new PlayStation Move looks like an obvious Nintendo Wii copycat, but things aren't as simple under the hood. Here's why Sony's upcoming PlayStation Move system will offer the most precise motion control to date.
Sony has transformed a swank event space in downtown Seattle into a sea More >