Posts tagged
Sony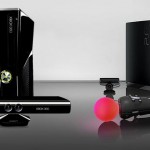 Tweet
This holiday season, the hot item in the video gaming world won't be a new console, or even a hot title, but a piece of hardware that will change the way you play games on the PlayStation 3 and the Xbox 360. Will people buy into it? We shall see.
Both due out this More >
Tweet
On the surface, Sony's new PlayStation Move looks like an obvious Nintendo Wii copycat, but things aren't as simple under the hood. Here's why Sony's upcoming PlayStation Move system will offer the most precise motion control to date.
Sony has transformed a swank event space in downtown Seattle into a sea More >
Tweet
Guess who is back? None other than Kevin Butler, the fictitious Sony PlayStation employee. This time he comes to us from the future in a video about the new Move motion-sensitive gaming technology.
We first got introduced to Kevin in 2009 when he was the Director of Game Accuracy promoting the latest More >